Unified.to July 2023 Product Updates
---
July 31, 2023
Welcome to the July instalment of Unified's product releases and highlights.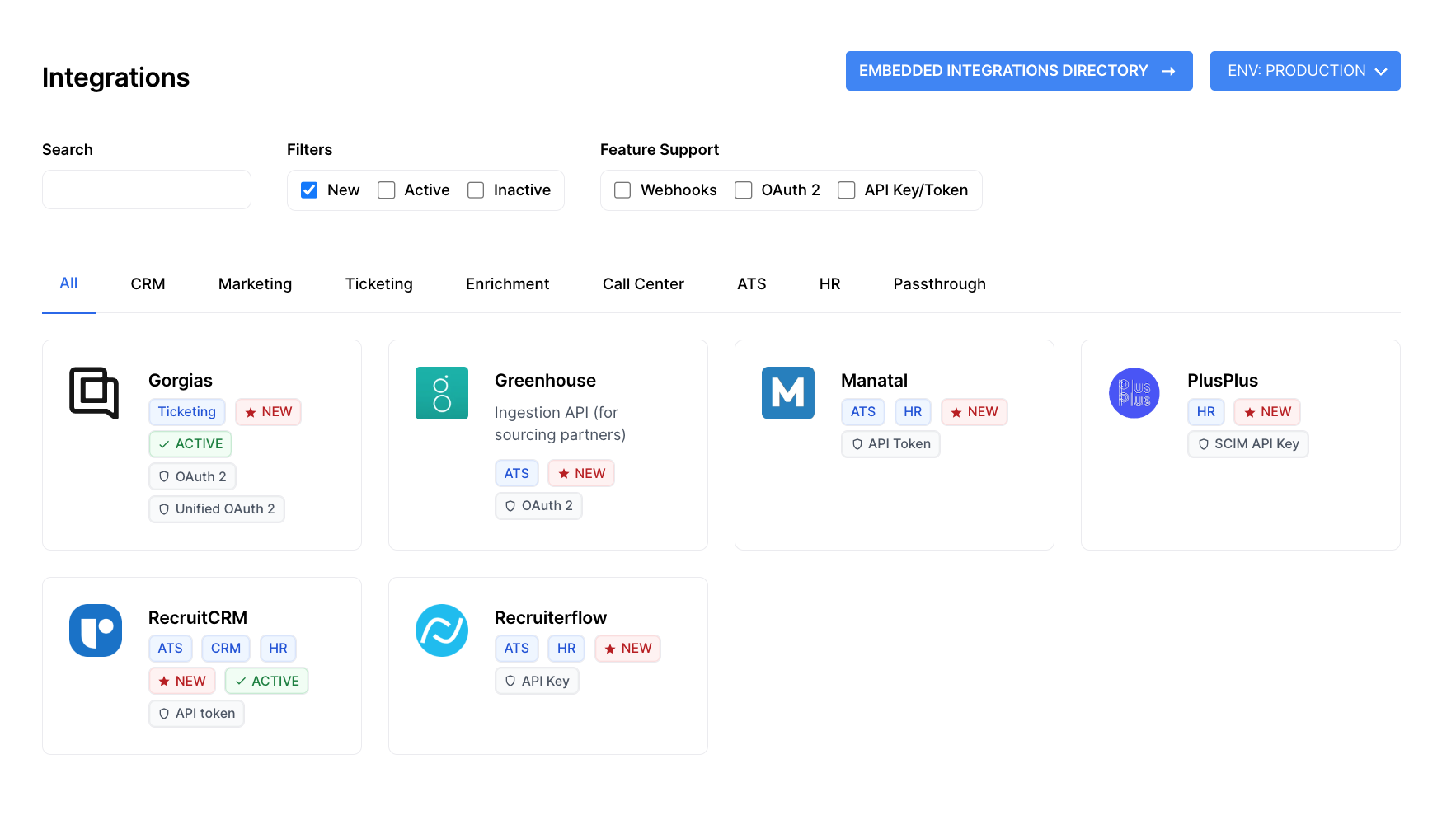 In just five months, Unified.to has gone from zero to 100 integrations. Most development teams struggle for months on end to pull off just one integration. Unified.to's architecture combined with our specialized expertise allows us to build at an incredibly fast pace.
Many of our integrations came to life because our customers asked for them. If there are integrations you'd like to add to your integration roadmap, just drop us a line and consider it done.
What's new:
Create a Unified.to account or log in to activate integrations in one click.
European Union data region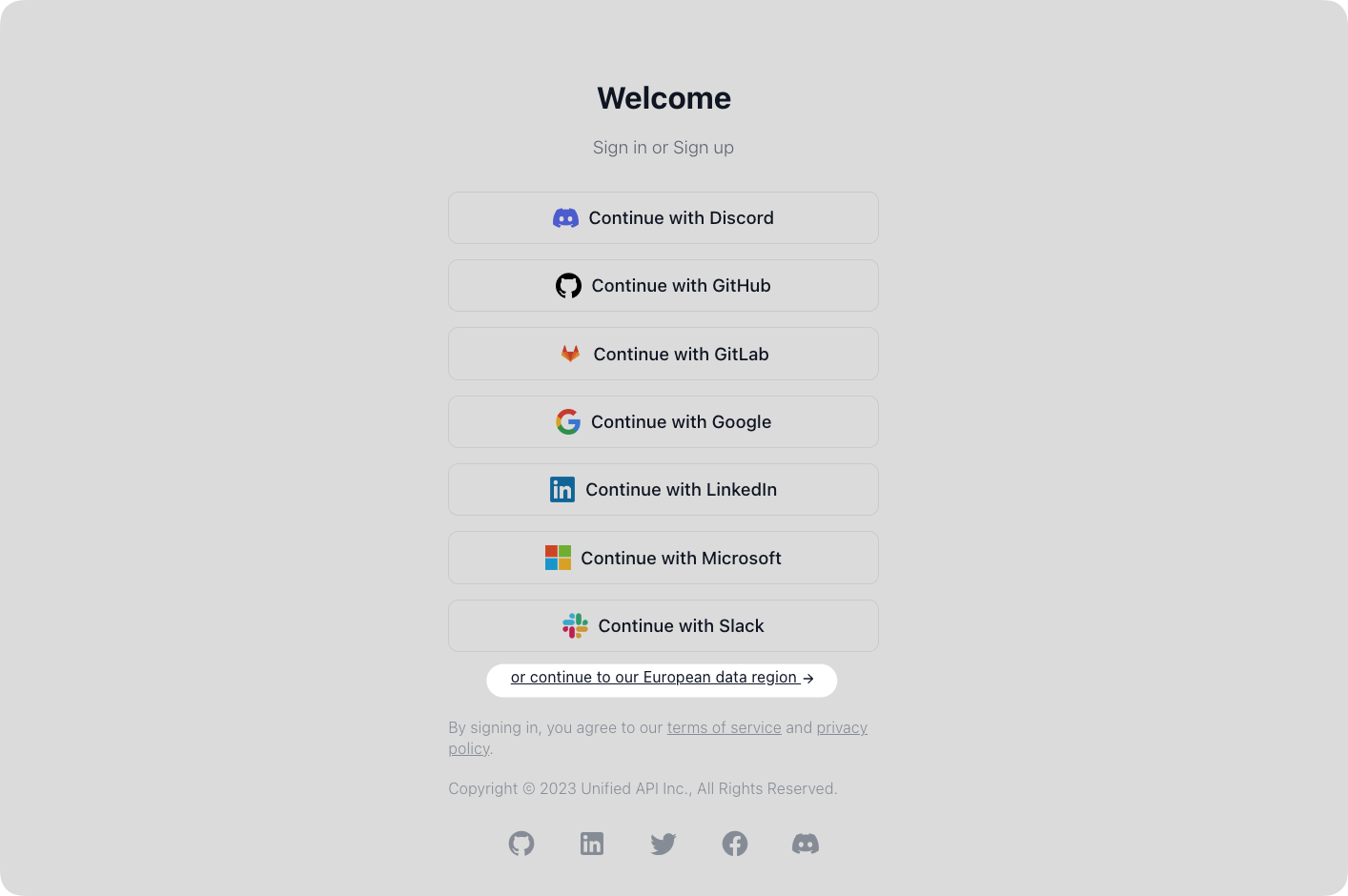 Unified.to just rolled out a European Union (EU) data region, adding another layer of flexibility and choice for our customers. Unified.to users can now decide where their data gets processed — whether it's in the US or in the EU. Your data, your call.
For all European users, you now have your very own dedicated instance of Unified.to, accessible via two streamlined URLs: https://app-eu.unified.to and https://api-eu.unified.to.
With multiple data regions, you can seamlessly cater to your local market and ensure your customers' data always stays in your specified region. Plus, for added security, Unified.to never stores or caches your customers' data on our servers. Speaking of data, Unified.to is also GDPR compliant.
See more updates on the changelog
Unified ATS Application Object We have introduced a new Object for our ATS integrations that represent when a candidate applies for a specific job. Our ATS Application Object includes the following fields:
applied_at: Captures the date of application submission.
rejected_at: Records the date of application rejection.
rejected_reason: Provides the reason for application rejection.
source: Captures the application's source.
status: Expanded options ('active', 'rejected', 'hired', 'converted') for better application tracking.
Learn more about our Unified ATS API
Launch Checklist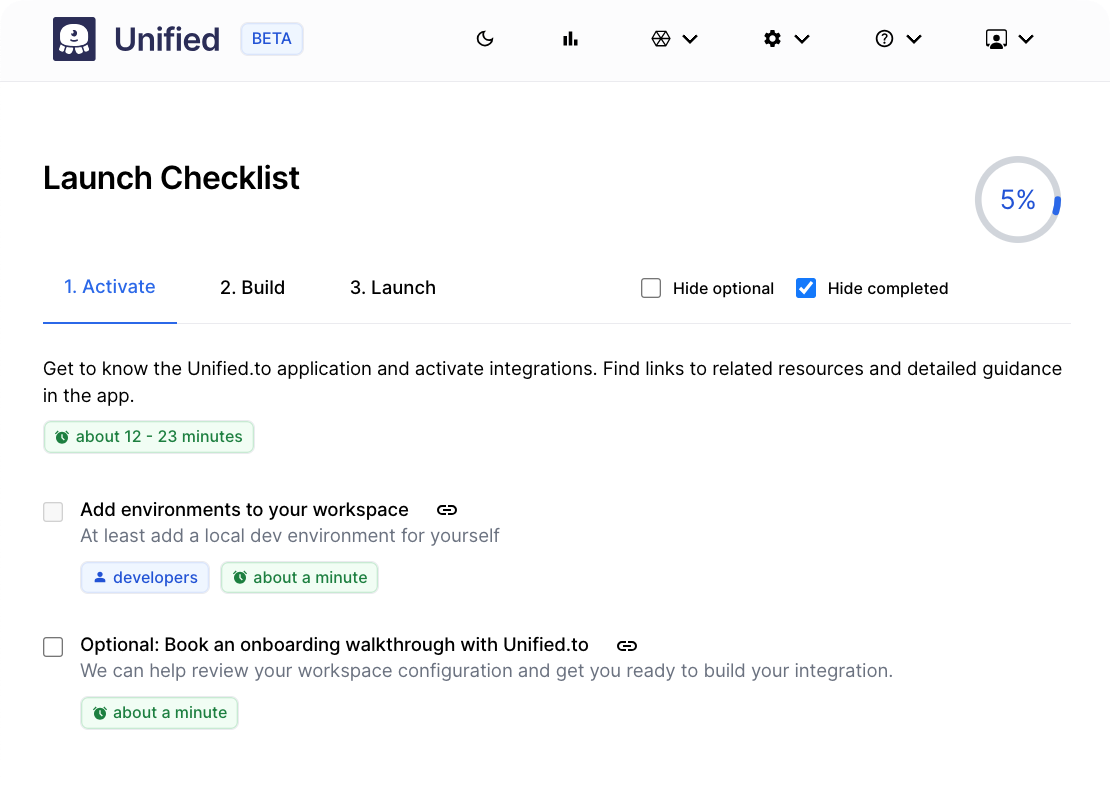 With Unified.to, developers integrate once to launch 100+ integrations across categories like HR, ATS, and CRM in just hours. Any developer can get started with Unified.to in three easy steps.
1. Activate
Activate the integrations you'd like to add to your application.
2. Build
Start building and testing your integrations in different environments, from staging to production.
3. Launch
Launch your integrations and give customers access.
To support developers as they begin to use Unified.to for the first time, we've created an in-product launch checklist that walks you through every stage, from adding environments to transforming our data models into your data models. Once logged in, go to Help > Launch Checklist.
Sign up or sign in to access the Unified.to launch checklist
APIs You Won't Hate: An API to abstract everything
Some of the best new company ideas are born out of the challenges founders face firsthand. That's precisely the case with Unified.to — our founding team has personally experienced the pain of integration development.
Recently, our CEO, Roy Pereira, was a guest on the APIs You Won't Hate podcast. During this conversation, he shares the company idea he didn't pursue due to the number of integrations he'd need. He emphasizes how integrations are not merely a development concern but a critical aspect of revenue generation.
"I talked to a CEO that said, 'integrations are a revenue limitation. I can't get my engineering team to build another integration and our revenue has been impacted greatly.' That's when the light bulb hit me. This is the product that I need to build."
How we built it: Reaching 100 integrations
Unified.to is dedicated to rapidly expanding our pre-built integration suite, providing our customers with 100+ pre-built integrations spanning seven essential categories — HR, ATS, CRM, Ticketing, Marketing, Enrichment, and Call Center. In our latest blog post, we divulge the three pivotal decisions that drive our accelerated development: adopting modern architecture, harnessing internal automation, and unifying everything.
Sneak peek:
Our expertise helps us bypass some of the mistakes that inexperienced developers make, like hastily building an architecture that cannot scale as customer requests for more integrations start piling in (and they always do). We've also leveraged internal automation tools that generate code.
Our partnership with JazzHR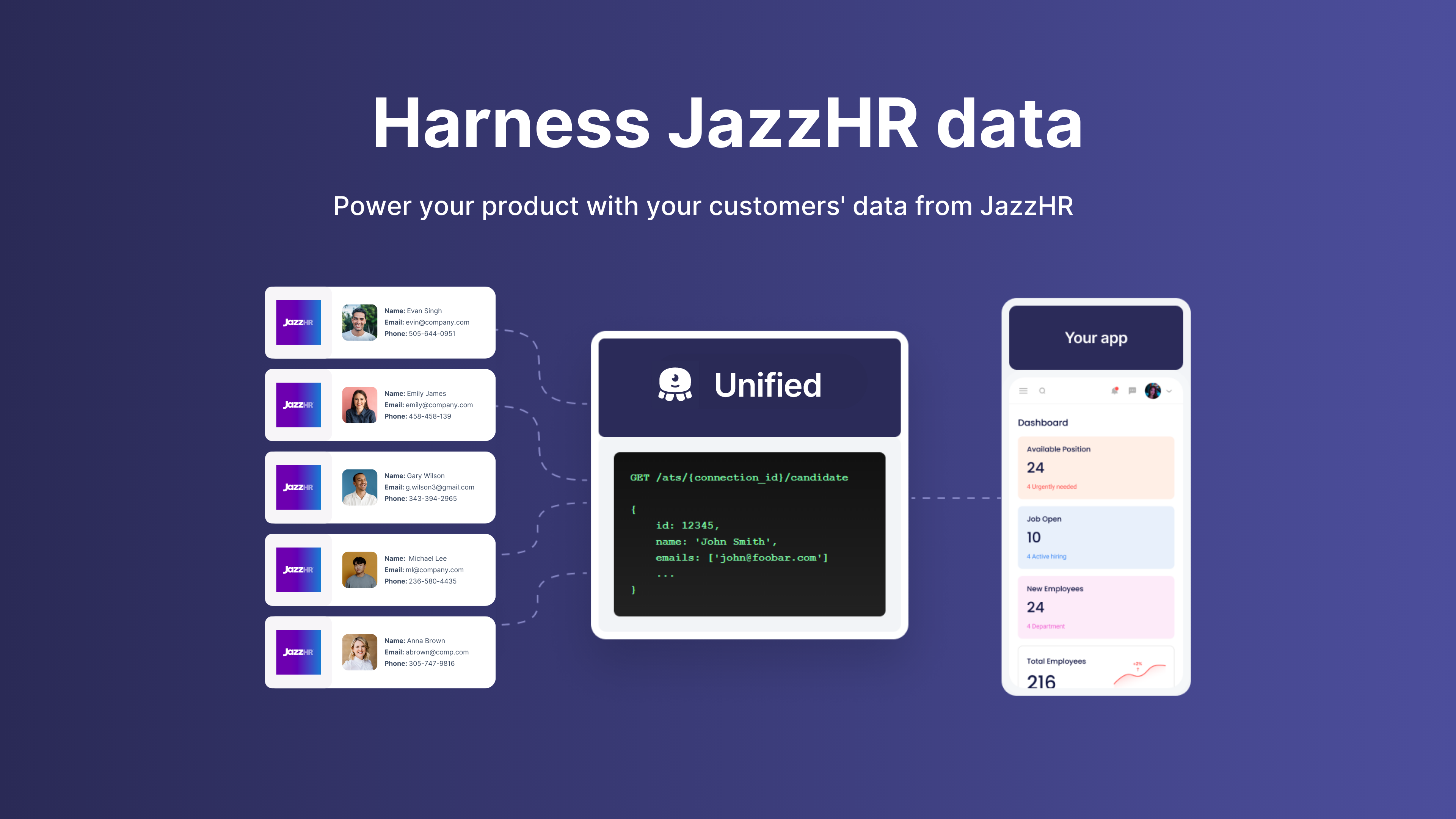 Partnerships represent just one of the many advantages of expanding your customer-facing integrations, and we are delighted to announce our new partnership as a JazzHR system integrator.
With Unified.to, developers at HR companies can seamlessly empower their products with user data from JazzHR and several other ATS systems, all through one Unified API and data model. Say goodbye to the headache of juggling different APIs and complex data models.
By integrating just once through Unified.to, you can effortlessly launch JazzHR and over 20 other systems within a matter of hours.
Learn more about Unified.to for JazzHR
$10,000 credit for Techstars Companies
We are thrilled to extend an exclusive perk to fellow Techstars companies: $10,000 credit towards any Unified.to subscription plan for six months.
Our plans are all usage-based per API request, and include:
Access to 100+ integrations
200,000 - 4M+ API requests
Unlimited customer connections, API data transfers, webhooks, and environments
Unified.to offers flexibility and scalability to support your growth. If you're a Techstars company looking to expedite integration launches and maximize your revenue potential, don't hesitate to reach out to us for more information.
Email us to redeem your exclusive Techstars credit
Thanks for reading!