How HeroHunt saved ten months of engineering time with Unified.to
---
October 19, 2023
HeroHunt chose Unified.to as their preferred Unified API platform to integrate with multiple application tracking systems (ATS). After assessing alternatives such as embedded iPaaS solutions, their engineering team realized Unified.to was the fastest and most straightforward solution.
Company: AI talent search and engagement
Use cases: Pull job data from ATS and push candidate profile data into ATS
Objective: Support multiple ATS integrations
Time savings: 10 months of engineering time (for building integrations)
Results: Launched 22 ATS integrations in one week with Unified.to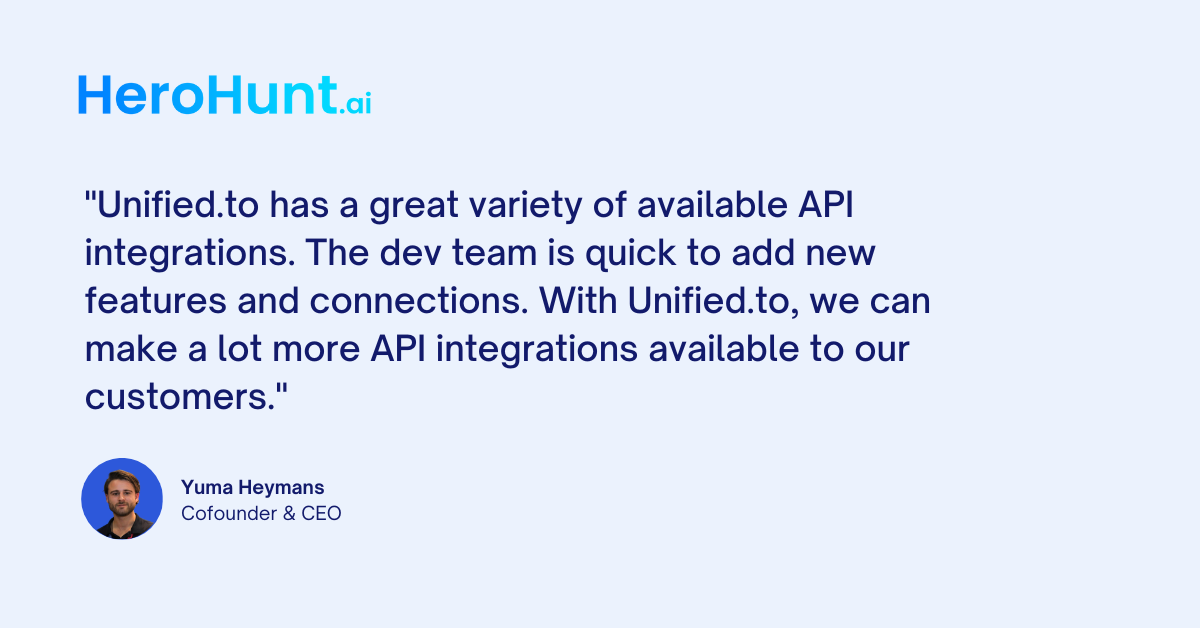 In 2021, HeroHunt emerged as a pioneering AI recruitment tech startup based in Amsterdam. Their mission: empower recruiters with enhanced data and workflows, elevating the recruitment process and scaling sourcing strategies.
While their original target audience was freelance recruiters and small businesses, it wasn't long before HeroHunt began attracting larger companies, which required support for more complex tasks and tech stacks. HeroHunt needed integrations with multiple ATS providers as they moved upmarket to serve recruitment teams at larger companies.
Initially, HeroHunt opted to handle integrations in-house and anticipated a two-week development timeline per integration. However, they soon encountered communication hurdles with third-party API providers, confusing documentation, several bugs, and ongoing integration maintenance, which distracted their team from their core product, prompting their search for alternative approaches.
Facing the strategic decision to support a broader customer base, HeroHunt required integrations into the most popular ATS providers, such as Greenhouse, Workable, and Workday. They needed a solution to swiftly scale their integration offerings while staying focused on their core product.
"Unified.to has a great variety of available API integrations. The dev team is quick to add new features and connections. With Unified.to, we can make a lot more API integrations available to our customers."
— Yuma Heymans, CEO, HeroHunt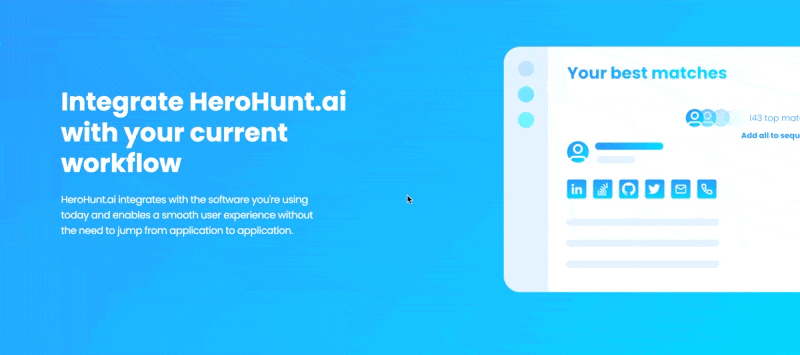 One HeroHunt developer deployed 22 ATS integrations with Unified.to within a week.
This feat was achieved thanks to our robust Unified API, which includes unified endpoints, data models, webhooks, authorization, and permission scopes—all without the hassle of delving into third-party API documentation. Whether HeroHunt's team wanted to add a single integration or 100, with Unified.to, it's the same development process, ensuring a streamlined and consistent experience regardless of scale.
In the search for the right integration development approach, HeroHunt looked into embedded iPaaS solutions, only to encounter complexity in the implementation process. Unified.to's straightforward implementation process was a breath of fresh air. Instead of juggling multiple connections to various APIs, their developer seamlessly integrated with the Unified ATS API to add multiple ATS integrations simultaneously.
Initially concerned about the potential limitations of Unified API technology, HeroHunt was pleasantly surprised. Unified.to provided the simplicity they sought and exhibited remarkable depth. Unified.to's responsiveness to additional integration and feature requests also demonstrated the adaptability they needed.
Yuma highlighted this responsiveness: "When we inquire about adding an extra field, for instance, the usual response is yes, and the implementation happens quickly."
During the integration process, the HeroHunt team received invaluable support and expertise from the Unified.to team. Direct access to integration experts in Unified.to's Discord channel proved to be a surprising and appreciated advantage. Choosing Unified.to as their preferred Unified API platform accelerated the integration development process and allowed for real-time assistance when needed.
HeroHunt has experienced a transformative efficiency gain by adding integrations with Unified.to, allowing their team to allocate time and resources to expanding their core product. In addition, their integrations with industry-leading ATS providers have opened new avenues for enterprise deals and paved the way for forging integration-based partnerships, which will be instrumental in sustaining and furthering HeroHunt's growth trajectory.
Looking for an integration development solution that is fast, straightforward, and secure? Try Unified.to today.