The HR tech transformation: leveraging API integrations for growth
---
October 17, 2023
How HR tech leaders are using API integrations to offer superior products in an increasingly interdependent ecosystem.
Today's human resources (HR) software industry, with more than 16,000 solutions, is experiencing a wave of innovation that has created an interdependent ecosystem. HR tech leaders who harness customer data from systems across the ecosystem improve their product value and increase their capacity to attract, retain, and monetize a broader customer base.
Predictive analysis, process automation, and artificial intelligence are a few of the emerging areas of HR investment as companies strive to increase their digitization, modernize talent search, and elevate hybrid working. Amidst the influx of new HR software solutions, 74% of companies aim to boost their spending on HR tech this year. The software review platform G2 now lists more than 30 HR software categories, covering everything from HRIS and recruitment to talent management and beyond.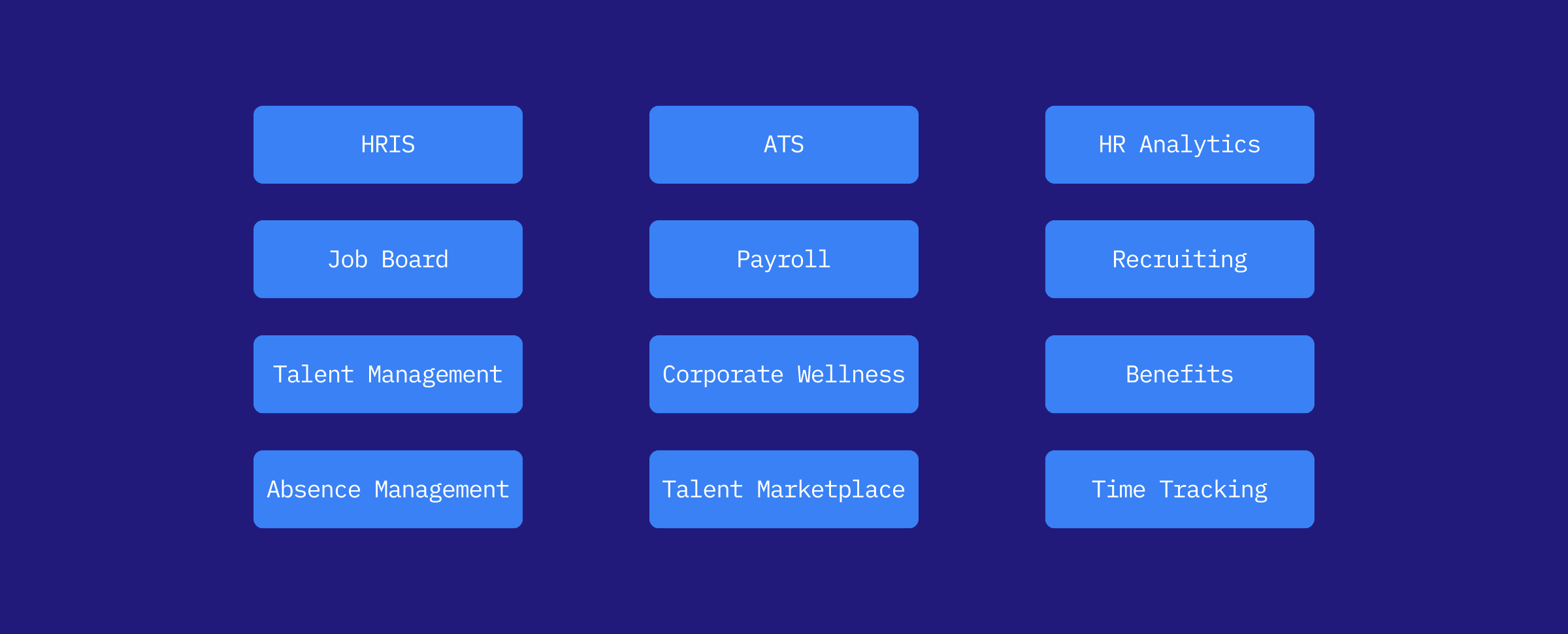 All this innovation in HR tech contributes to the proliferation of customer data that is scattered across multiple third-party software systems. As a result of having to switch between multiple systems, users are paying a higher toggling tax, driving demand for HR solutions that are compatible with a variety of related HR products.
Additionally, only 29% of HR tech users say the components of their HR tech stack integrate well, causing the average mid-sized company to replace 39% of their SaaS applications with ones that have better functionality and integration offerings. There is a clear opportunity for HR tech leaders to address these challenges head on by integrating their products directly with the top platforms.
Globally, integrations are the third most important factor for B2B buyers, followed by trust and sales flexibility. Integrations, built on APIs (application programming interfaces), are seamless connections between different software products, allowing them to communicate and share data in real time. For example, an HRIS platform can integrate with multiple ATS systems to allow for a seamless transfer of candidate data, interview schedules, and application statuses.
HR software companies that enable integrations with other products not only enhance their products with third-party customer data but also alleviate the need for their customers to manually handle tasks or implement automation themselves through platforms like Zapier, increasing the rate of adoption and reducing user friction. Mid-sized companies found that integrations prevented churn by 70-79% and small companies reported a 50-59% impact.
Consider a payroll software company that depends on employee data from HRIS platforms to facilitate timely employee payments. Without integrations, this company imposes the task of accessing HRIS data onto its customers through manual .CSV file uploads. Requiring customers to manually upload files whenever there are changes to employee data amplifies issues such as data silos, user friction, and errors. By incorporating direct integrations into popular HRIS platforms, the payroll software company extends its product's functionality and increases service reliability.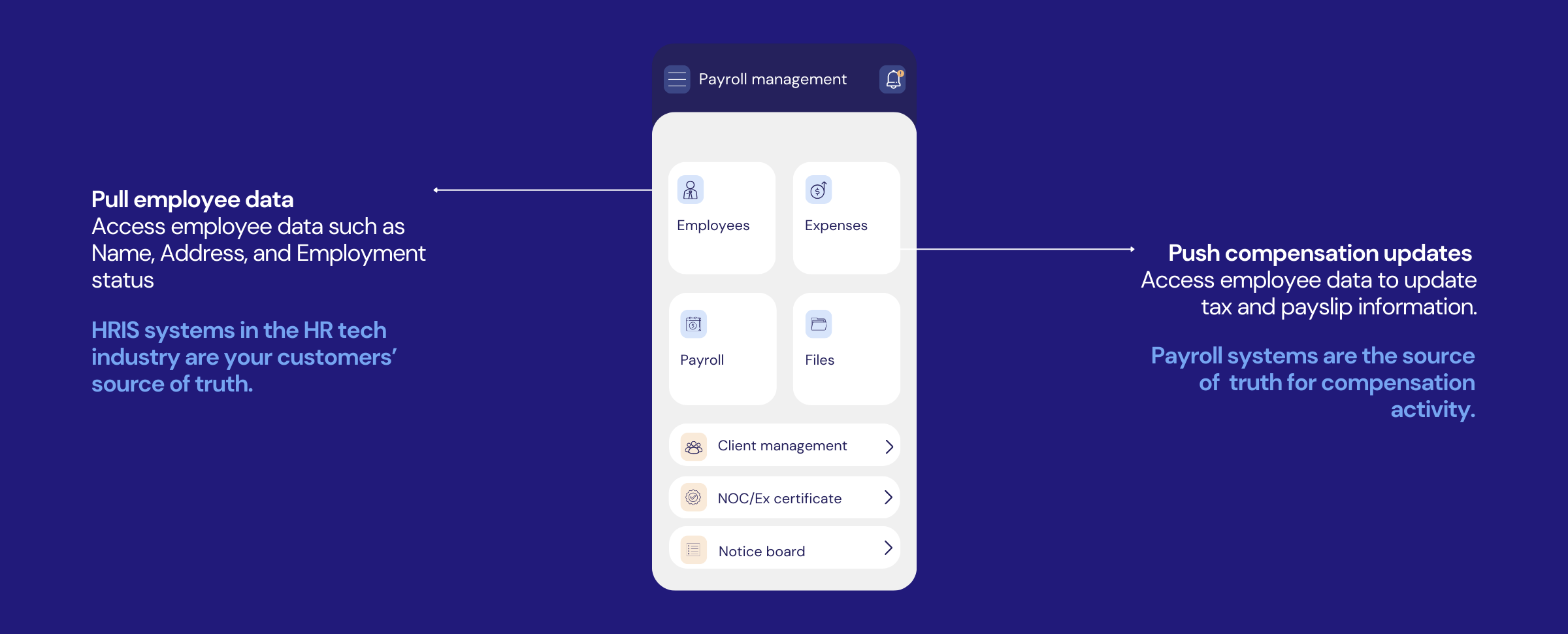 The value of integrations goes beyond enhancing user experiences — integrations are fundamental for HR tech companies as they heavily depend on third-party customer data to drive the core functionality of their products.
In the ever-evolving realm of HR tech, there is a wide spectrum of use cases for customer-facing integrations. We'll share a few common examples of how related products in the HR tech ecosystem share data through integrations.
1. Automated candidate assessment
Systems:
An assessment tool integrates with applicant tracking systems (ATS)
Objective:
Enhance the hiring process with relevant assessment data (e.g., surveys, background checks, skills tests)
Use case:
Integrate with ATS data to streamline the hiring process by leveraging ATS data to perform an automated assessment and store the assessment data in the ATS.
Data requirements:
Candidate, Application, Scorecard
Examples of ATS platforms:
2. Real-time application tracking
Systems:
Job board software integrates with ATS
Objective:
Provide real-time tracking of application status
Use case:
Implement ATS integrations to allow the job board software to communicate in real-time, enabling candidates to receive updates on the status of their applications, and increasing transparency in the hiring process.
Data requirements:
Candidate, Application, Job
Examples of ATS platforms:
3. Enhance performance management functionality
Systems:
Performance management product integrates with HRIS
Objective:
Enhance the performance management process by seamlessly integrating employee data from HRIS products
Use case:
HRIS integrations ensure performance assessments, goal-setting, and feedback reflect each employee's complete history, including titles, departments, and previous managers, found in HRIS data.
Data requirements:
Employee
Examples of HRIS platforms:
These are just some integration use cases that HR tech companies can support by seamlessly connecting with their customers' third-party HR or ATS data. Integrations contribute significantly to the evolution of robust software solutions, empowering HR tech companies to leverage third-party data to enhance their product value, from refined product onboarding to reduced data entry burden and more.
Integrations between complementary SaaS products are a gateway to growth.
Not only do direct integrations give software companies a competitive edge and make it possible for companies to service a broader customer base, but they also allow integrated products to participate in ecosystem or integration-based partnerships that directly impact lead generation and sales. Okta, an identity and access management company, reported that deals influenced by integration partners accelerated their sales cycle by 40%, from early stage to won.
Building an integration is usually the first step to engaging in a SaaS partnership, which can involve co-marketing activities, such as marketplace listings, social media promotion, webinars and sponsored events, and features in blog posts and newsletters.
Acquiring customers through integration partnerships has the potential to drive better conversions and user retention with a positive ROI. For example, an ATS platform that integrates with the most popular HRIS platforms gains exposure to a new section of the market, without having to do an extensive amount of marketing and advertising.
By taking a look at the wider SaaS industry, there are plenty of examples that HR tech leaders can learn from, such as:
Today's HR tech users don't want to do manual data entry or use products incompatible with their tech stacks. HR tech companies can utilize integrations with complementary products as a core differentiator in the market, increasing their growth and revenue potential.
Traditional integration development is a long and complex process, often requiring months of development time that distract from your core product. To reap the benefits of customer-facing integrations and make your development process easier, discover Unified.to — A Unified API developer platform for SaaS integrations. Developers integrate once through a Unified API to deploy 100+ integrations in just hours. Interested in getting started with HR integrations? Sign up or contact our team.
By: Kailah Bharath, Head of Marketing at Unified